Oldbury Tours offer bespoke Stonehenge and Avebury guided tours. We aim to provide unique experiences and create lasting memories of your visit to this exceptional area. Your tour will be in one of the most fascinating and beautiful parts of the UK packed with some of the most important prehistoric monuments in Europe.
Much of the landscape of this part of the UK is still modelled to the designs of ancient peoples. Great monuments stand proud in beautiful surroundings testament to the ambition, skills, determination and beliefs of long vanished cultures. On our guided tours we will introduce you to the countryside and its story as told by these remnants of times past.
Check out Oldbury Tours on Yelp
Avebury and Stonehenge Private Guides
At Oldbury Tours we are committed to making your day with us a truly memorable one. Your day will be enhanced by being driven in comfort from site to site in our luxury SEAT Alhambra Lux. We can take up to six passengers and there are built-in child seats if required.
Our 5 star service starts from your first enquiry. We will try to accommodate all your requests and will design your tour with you in a series of emails. We are also happy to help you find the right accommodation and advise on modes of transport to our area.
We aim to tick every box and ensure that you have the best possible experience while you are with us.
Who are we?
Laurence set up Oldbury Tours in 2014 and is seen here on the left guiding the American travel writer Rick Steves at Avebury in 2016. Having researched the wonderful county of Wiltshire and its amazing history for the whole of his life he likes nothing more than to share his passion with others. He has a BA in archaeology and classical studies and gets involved in ongoing excavations in the area each year.
He is also a professional musician who has toured the world (including visiting over 100 UNESCO World Heritage sites) so knows first hand what it is like to be a tourist.
About Laurence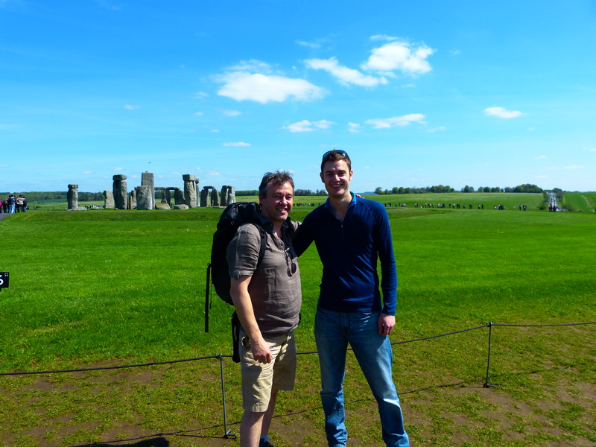 Why Tour with a guide
I have been very fortunate to travel extensively and have enjoyed the company of many guides, all passionate about their subject. I hope I can equally share my passion for the county of Wiltshire and its wonderful sites.
People have often been heard to describe Stonehenge as 'a pile of rocks in a field'. They are of course correct but there is an awful lot more to Stonehenge than that. Where did the stones come from? Are they all the same type of stone? How heavy and tall are they? Are they carved or natural shapes? How and when were they put up? Were they all erected at the same time. Which period of prehistory are they from? Which culture or people put them up and used them? Was the monument ever finished? What was its purpose? Where did the people live who used the monument? Was it used all year round? Has it all been excavated? Has the monument been renovated?
Of course you can read up about Stonehenge before you come and there are guide books available. But they can't answer questions, and you will have a lot. Each question leads to another and some answers aren't in the guide books. For instance we only learnt at the end of July 2020 the answer to my first question about where some of the stones at Stonehenge came from. It's not in any guide book yet but I can even show you where it was on our journey between Avebury and Stonehenge.
Click on the button below to read more about Laurence's own experiences
Travelling with a Guide
What else is there in the area and do we go there?
For good reason people want to visit Stonehenge and Avebury but there is a wealth of lesser known monuments within the UNESCO World Heritage Site. These include West Kennet Long Barrow and Silbury Hill most famously. Additionally there are The Devil's Den, Windmill Hill, Knap Hill, Adam's Grave, the Sanctuary, the Stonehenge Cursus, Woodhenge, and Durrington Walls to name a few. All of these monuments date from the Neolithic period (4000 – 2400BC), the period that includes Stonehenge and Avebury.
We are also blessed with an extraordinary number of monuments dating from the bronze and iron ages (2400 – 55BC). Most notably these include numerous bronze age burial mounds and iron age hillforts.
The countryside surrounding the two world famous monuments is simply littered with these unique prehistoric sites. While seeing Stonehenge and Avebury is an absolute must their story is not complete without exploring the surrounding area. All the fascinating places we explore on our guided tours are intimately linked and combined they tell the story of 4000 years of human history before the Romans even turned up.
More recent history
Most people who choose to spend a day or two with us usually have broad interests and fortunately our immediate area provides enough variation to satisfy everyone. Over the years we have had requests to visit many different places and we regularly include castles, cathedrals, churches, country manors and special cities, towns and villages on an itinerary. In Wiltshire we have interesting sites from the Roman and Saxon ages and all the subsequent periods of history.
Ancestral links
If your family originally comes from this area or has a connection to it we are also happy to research a little of their background and visit relevant places on a tour.
For specific places please enquire.
Why Choose Oldbury Tours?
Comfort & Convenience
Your driver guide, Laurence, will pick you up from your hotel or other place of choice. You will be driven between sites in a fully air-conditioned 7 seat car and taken back to your hotel or other place of choice at the end of the tour.
Fully Licensed & Insured
Your driver guide holds a private hire licence issued by Wiltshire County Council and is fully insured to operate as a driver guide. Oldbury Tours also have all the necessary Public Liability Insurance.
Fully Bespoke
Oldbury Tours can design your tour for you but you can also have as much input as you like. Please ask and we will try to accommodate all of your requests. We are also happy to be flexible on the day if our conversation leads us somewhere. Nothing is set in stone!
Book Your Tour
The Background Knowledge
As part of this website we have included articles about the main places we visit on our tours. Reference is made to several authors when talking about the monuments and sites of importance. The idea behind the tours, and therefore these articles, is to link local knowledge and enthusiasm with the expertise and research of professional archaeologists. The books, pamphlets and articles referenced contain the most up-to-date science available having mostly been written in the 21st century by foremost archaeologists of our day. We recommend them for further reading in the bibliography.
Further Reading
Hi Laurence, I was just wrapping up from our wonderful trip to the UK and wanted to send you some of my photos from the trip. I got some pretty ones of Stonehenge that I thought you might like to use on your site. We are still excited about the tour we took with you. It was such a treat. I put a review up on TripAdvisor for you too.
Mrs A. Seattle, US November 2019
Hi Laurence, Thanks again for the great tour. It is one of our  highlights for this year. I hope to send you some pictures next week.
Mr and Mrs H. California, US October 2019
Hi, Laurence, I realized we never sent you a picture that we thought you'd appreciate. We have so many good ones from what was a great tour! We so appreciated all the info and good sites you took us to see. I have been meaning to write a review, or let me know if there is anything we can do.
Mr and Mrs M. Oregon, US September 2019
Hello Laurence, Going through the photos of our wonderful holidays in England, we want to thank you once again for this so impressive day in and around Stonehenge. Besides the weather (impressive in its own way), it has been extremely interesting and we benefited a lot from your vivid descriptions. We wish you a wonderful rest of the summer and good luck for your digging campaign!
Family G. Winterthur, Switzerland July 2019
Hi Laurence, We wanted to thank you one more time for all you did in putting the tour together, managing the logistics, and including some extras like coffee, the Alfred the Great site, Saxon font, medieval graffiti, and – of course- pub and ale recommendations. You made our time together memorable and meaningful. I will recommend Oldbury tours to other travellers and archaeology buffs. Please keep us on the mailing list, I hope to return in a few years.
Family P. Philadelphia, US July 2019